In 2003, Emily originated the Visual Arts Program at the KlezKanada's Laurentian Retreat in Lantier, Quebec, Canada.  She has directed and taught the program for twelve years. To see this history of the Visual Arts Program at KlezKanada, click here. This year she will return with a program entitled:
KlezKanada 2016 – A Banner Year!
No family crest – no problem! No personal logo? Get busy! We'll provide the base on which to design a personal, clan, artistic guild or community, banner.  These can be painted, embroidered, sewn, and embellished with a variety of materials.  Then, at the conclusion of the week, we will carry them in procession. Want to create an ode to your creative work? A blessing for those you love? Do you love Ottoman red and gold? How about a shop sign for our invented ghetto or shtetl? Simkhas torah is around the corner.  Occupy!
Retreat Dates: Monday August 22 to Sunday August 28, 2016
Retreat Location: Camp B'nai Brith, Lantier, Quebec
Registration Information
Past Events
—————————————————————————————————————–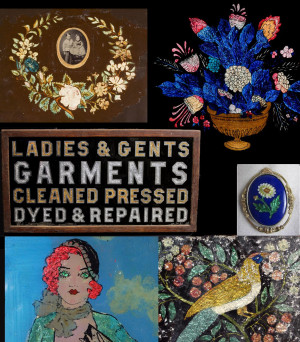 Tinsel Painting
Tinsel Painting was a popular art form in the late 19th Century, a reverse glass painting technique where the negative space is blacked out and a glittering background radiates through the clear, tinted spaces. This was an inexpensive means of creating signs, setting off cherished documents (like photos, mizrachs or ketubahs) or producing decorative wall art and jewelry. We will experiment with transferring images onto glass or sturdy plastic sheets and creating unique framed objects. We'll also make smaller, wearable items from glass gems. Feel free to bring materials to collage.
Weblink here:
Questions: emily@emilysocolov.com
—————————————————————————————————————–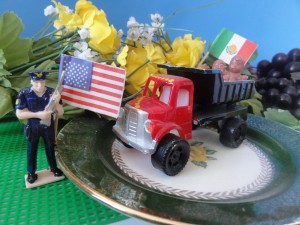 Open Studio/Closing Studio-Estudio Abierto/Clausura Estudio
An Installation entitled: The Yellow Rose of Texas
Queensboro Art Studio
4009 21st Street, 6th floor
Long Island City, New York 11101
Sunday, February 16 – 1-4pm
F – 21st Street/Queensbridge
—————————————————————————————————————–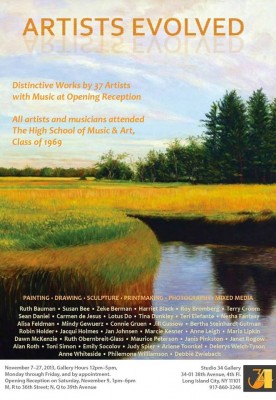 Please join the Music & Art class of '69 at the Opening Reception of Artists Evolved, an exhibition of their work at the
Studio 34 Gallery
34-01 38th Avenue
Long Island City, NY
Opening Reception, Saturday, November 9, 2013 – 1-6 PM
Show will be up from November 7th through the 27th.
Gallery Hours are 12-5pm, Monday – Friday and by appointment.
Subway: M and R to 36th Street, N or Q to 39th Street
Photostream on Flickr
Event Poster Image: Marla Lipkin
—————————————————————————————————————–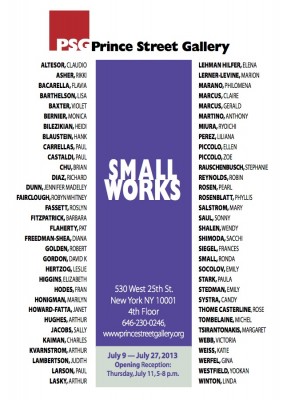 Emily Socolov's work will be included in:
Prince Street Gallery: Small Works Invitational
Exhibit Dates: Tuesday, July 9 to Saturday, July 27, 2013
Opening reception: Thursday, July 11, 5-8 PM
530 West 25th Street 4th Floor
New York, NY 10001
Tel:  646 230-0246
Gallery Hours: Tuesday – Saturday, 11 AM – 6 PM
**GALLERY WILL BE CLOSED TUESDAY JULY 16**
—————————————————————————————————————–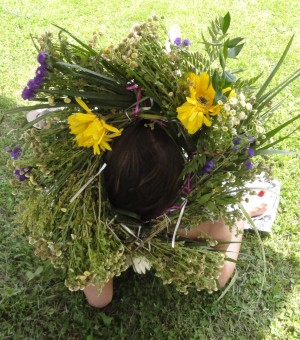 In 2003, Emily originated the Visual Arts Program at the KlezKanada's Laurentian Retreat in Lantier, Quebec, Canada.  She has directed and taught the program for ten years. This year she will return with a program entitled:
To kroynt di kep mit blumen-krantsn / To Crown Our Heads With Flowery Wreathes*
Flowers have long provided inspiration for creative expression.  This summer we will be inspired by flowers!  We will focus on making flowers from recycled materials, corresponding to the transformational and magical properties often attributed to flowers in folk songs and stories. Students can create objects and adornments from beads, paper, clay, fabric and other media.  The more adventurous are invited to make works based on complex Jewish flower themes. A discussion of flower names in Yiddish will enhance our program. This week of workshops will complement the extensive curriculum of music, dance, poetry and lectures.  Questions: visualartsklezkanada@gmail.com
Retreat Dates: Monday August 19 to Sunday August 25, 2013
Retreat Location: Camp B'nai Brith, Lantier, Quebec
Registration Information
*The course title is derived from the lyrics of the Yiddish song: Arum dem fayer / Around the Fire